Meet Dr. Lauren Garrison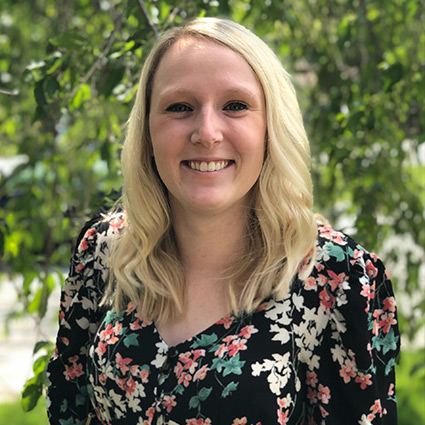 As she didn't grow up with chiropractic, Dr. Garrison never had an aha moment that compelled her to become a chiropractor. However, two months before graduating from Williams Baptist University in Walnut Ridge, Arkansas, she thought. "What am I going to do with my life?" Her undergraduate degree was in pre-med/biology and she wondered how she would use her education to help others.
Discovering Her Life's Purpose
Dr. Garrison began her quest to determine what her career path would be. She shadowed every type of doctor, nurse, and other healthcare providers, but felt something was not clicking. "One night I went to church, and the message was all about God's purpose in your life, and I knew my purpose is to help people heal naturally."
With an understanding that the body has an innate ability to heal, Dr. Garrison wondered what type of doctor can help foster that natural healing. One evening she stayed up all night googling and discovered chiropractic. She then applied to chiropractic school, and two and a half months later, she was off to Missouri to attend Logan University.
Education and Certifications
Dr. Garrison earned her Doctor of Chiropractic from Logan University in St Louis. In addition to her doctorate, she is certified in laser therapy, SOT, and Thompson Drop. Dr. Garrison is also working toward acupuncture certification and already has 100 of the 200 required hours under her belt.
Helping to Change Lives
At Logan, Dr. Garrison learned a lot about how the body can heal without drugs or surgery, and how she could help with that. "Pain is the last symptom to show up, but people think it's the first to arise. I like to help change people's lives not only by alleviating their pain, but also by identifying the root cause of their problem."
Dr. Garrison finds it rewarding to educate patients on what is wrong with their body and to let them know that they're feeling their pain for a reason. "My goal is to find out what that reason is and address the problem. Then things begin to change and the pain starts to go away, and you think 'wow, this is magic; chiropractic works.'" She wants patients to believe that chiropractic can help them. "They need to believe it to get better."
EXPLORE CHIROPRACTIC »
Enjoying an Active Life in Greenwood
When she's not at the practice, Dr. Garrison loves to hike. She's also a serious runner who ran cross country and track throughout high school and her undergrad years. Given her passion for staying fit, she likes to work with other athletes to ensure they have proper form and alignment that can allow them to perform better.
Dr. Garrison also enjoys reading when she has time. She has a beloved dachshund back home in Arkansas that her mom is taking care of. Dr. Garrison likes taking her boyfriend's family's dog out for a walk every day.
Book an Appointment
Contact us today to schedule an appointment with Dr. Garrison!
---
Dr. Lauren Garrison | Storm Chiropractic Clinic