Meet Dr. Sarah Hull
I never imagined being able to have a job that I enjoyed. Getting to go to work and change people's lives is incredible!
The Path to Becoming a Chiropractor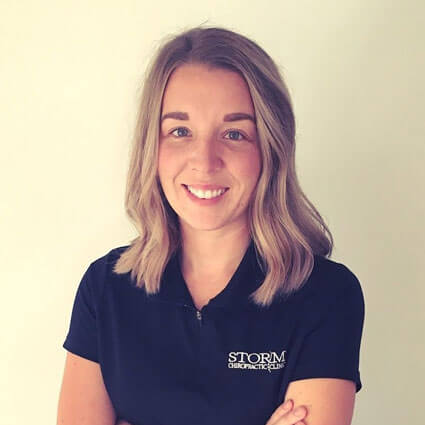 Dr. Hull was originally going to be a physical therapist. While in college, her boyfriend at the time was having numbness in his legs and his doctor recommended he see a chiropractor. After seeing how chiropractic care help him, Dr. Hull also started seeing a chiropractor. The headaches she had been having for years went away.
She decided to switch paths and become a chiropractor. Dr. Hull obtained her Doctor of Chiropractic at Palmer College of Chiropractic in Florida. "I enjoyed being around like-minded fellow students. We all chose the profession because of an amazing experience we had with a chiropractor."
Offering Many Approaches
To help her patients, Dr. Hull uses an array of adjusting techniques but mainly employs Diversified, a hands-on approach. She also can use Activator Methods® if someone wants a lighter touch. Dr. Hull is certified in the Webster Technique to help pregnant women get into an optimal birth position.
"My goal is to help people understand the power of chiropractic and what it can do for them."
Providing Natural Care With Compassion
Dr. Hull is passionate about helping patients feel better in a natural way without using drugs. Kind, caring and genuine, she is also a good listener. Her soft voice helps patients relax during their healing journey.
Getting to the root cause of someone's pain also drives Dr. Hull. In addition to providing chiropractic care, she looks at the whole picture of a person, including their nutrition and diet. Because of her previous background, she also can provide some PT to patients.
EXPLORE CHIROPRACTIC »
In Her Spare Time
When she's not working, Dr. Hull loves spending time with her young daughter. They like to go to as many parks in the area as possible. Dr. Hull also enjoys reading and hanging out with her dog Banjo and her partner Mike. Hailing from upstate New York, Dr. Hull is also close to her family, all of whom are scattered across the country.
Contact us today to schedule a convenient appointment!
---
Dr. Sarah Hull | Storm Chiropractic Clinic