Meet Dr. Kevin Storm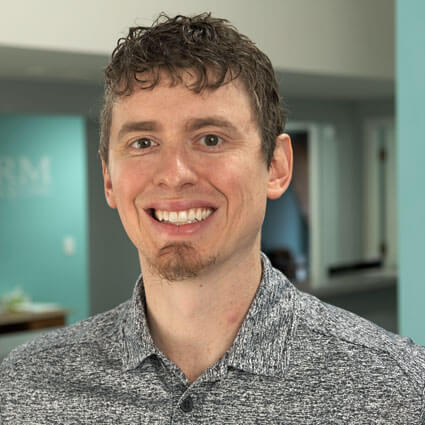 For Dr. Storm, the most fulfilling aspect of being a chiropractor is seeing his patients improve and have a better overall quality of life. "I enjoy helping people to regain function in a more natural way by using chiropractic. They don't have to rely on more invasive approaches."
Experiencing the Effects of Chiropractic
Toward the end of high school, Dr. Storm had teachers who renewed his interest in science. At the same time, he was experiencing some injuries due to running. Dr. Storm tried different routes of care with no success. That is until he saw a chiropractor who provided adjustments along with acupuncture. "Those two treatments were what got me back to better function so I could continue to run."
Attaining a Chiropractic Education
After earning his bachelor's from Purdue University, Dr. Storm attended Logan College of Chiropractic. While at Logan, Dr. Storm had a professor-Dr. Winchester-who made an impact on him. "He had a more functional perspective when it came to analyzing the patient."
In addition to his Doctor of Chiropractic, Dr. Storm completed the following:
A Master of Science in Nutrition from Logan
200 hours of postgraduate fellowship in acupuncture
The Internal Health Specialist Program training by Dr. Loomis
Certified in the Webster Technique
Providing Attentive Care
Upbeat and caring, Dr. Storm takes the time to listen to his patients. He always wants to understand where each patient is coming from so he can provide the appropriate insight. "I want to help patients have the best experience possible and reach their goals." He likes challenging cases-the ones that keep him up at night and drive him to learn something different.
"As chiropractic is an ever-changing field, I always need to make sure I'm keeping up with the latest research and techniques." Dr. Storm is steadfastly committed to honing his skills for the benefit of his patients.
Dr. Storm uses Diversified, Thompson Drop, Cox Flexion-Distraction and Activator Methods®.
EXPLORE CHIROPRACTIC »
Family and Faith
When he's not at the practice, Dr. Storm enjoys spending time with his wife Marie, who works at the office, and their young children Claire and Leo. They like to enjoy time outdoors, hiking and seeing new places. Dr. Storm and his family attend Emmanuel Church in Greenwood. He and Marie are involved in ministries there.
Raised in Indianapolis, Dr. Storm remains close with his family. His father is a dermatologist and was highly supportive of Dr. Storm pursuing a career in chiropractic. His mom, who has helped at the practice, is one of his best friends, as is his older brother. Dr. Storm views them as great role models and supporters.
Contact us today to schedule an appointment with Dr. Storm!
---
Dr. Kevin Storm | Storm Chiropractic Clinic