We are so thrilled to share our best news for 2020: Dr. Sarah Hull beat breast cancer!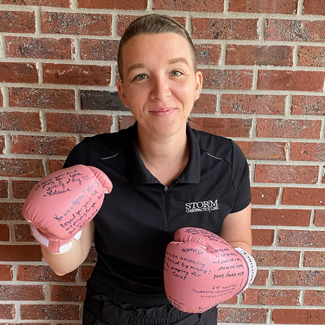 We could not be more overjoyed to share this exciting victory. Dr. Hull is SO ready to return to her passion of chiropractic! "I never imagined being able to have a job that I enjoyed. Getting to go to work and change people's lives is incredible!"
Providing an Array of Approaches
Dr. Hull uses various adjusting techniques but mainly employs Diversified, a hands-on approach. For those seeking a lighter touch, she also can use Activator Methods®. Dr. Hull is certified in the Webster Technique to help pregnant women get into an optimal birth position.
Delivering Natural Care With Compassion
Perhaps you've been to other doctors who provided care in a cold or clinical manner. That's not the case with Dr. Hull. Kind, caring and genuine, she has a soft voice that helps her patients relax. She also is a good listener and wants to know about your health concerns and goals.
Getting to the Root Cause
While medication masks symptoms, Dr. Hull gets to the root cause of someone's pain. In addition to providing chiropractic care, she takes a holistic approach, looking at the whole picture of a person, including their nutrition and diet. She also is able to provide PT to her patients.
Dr. Hull will start seeing patients in November!
Here's her schedule in Franklin starting November 10th:
Mondays 7a-6p
Wednesdays 7a-6p
Thursdays 8a-7p
Fridays 1p-6p
Dr. Storm has enjoyed getting to know all the patients at Franklin while Dr. Hull was out so he decided to continue!
Here's his Franklin schedule:
Tuesday: 1:30p-6:00p
Friday: 7a-noon
Thank you all for your love, support and prayers for her battle these last 8 months!! It means SO much. Please join us in welcoming Dr. Hull back!
Book an Appointment
Contact us today to schedule a convenient appointment!